Gerda Weissmann Klein
---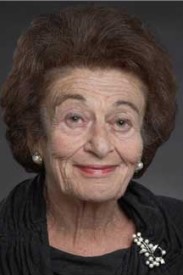 Gerda Weissmann Klein was born in Bielsko, Poland, in 1924, and now lives in Arizona with her husband, Kurt Klein, who as a U.S. Army lieutenant liberated Weissmann on May 7, 1945.
The author of five books, she has received many awards and honorary degrees and has lectured throughout the country for the past forty-five years.
Kurt and Gerda are the authors of The Hours After: Letters of Love and Longing in War's Aftermath, published by St. Martin's Press. One Survivor Remembers (a production of Home Box Office and the United States Holocaust Memorial Museum), winner of an Emmy Award and the Academy Award for documentary short subject, was based on All But My Life.