All But My Life – Gerda Weismann Klein
---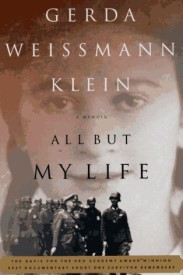 All But My Life is the unforgettable story of Gerda Weissmann Klein's six-year ordeal as a victim of Nazi cruelty. From her comfortable home in Bielitz (present-day Bielsko) in Poland to her miraculous survival and her liberation by American troops—including the man who was to become her husband—in Volary, Czechoslovakia, in 1945, Gerda takes the reader on a terrifying journey.
Gerda's serene and idyllic childhood is shattered when Nazis march into Poland on September 3, 1939. Although the Weissmanns were permitted to live for a while in the basement of their home, they were eventually separated and sent to German labor camps. Over the next few years Gerda experienced the slow, inexorable stripping away of "all but her life."
The Pact – Davis, Hunt, and Jenkins
---
They grew up on the streets of Newark, facing city life's temptations, pitfalls, even jail. But one day these three young men made a pact. They promised each other they would all become doctors, and stick it out together through the long, difficult journey to attain that dream. Sampson Davis, George Jenkins, and Rameck Hung are not only friends to this day—they are all doctors.
This is a story about the power of friendship. Of joining forces and beating the odds. A story about changing your life, and the lives of those you love most…together.
Contact Information
The Three Doctors, LLC.
65 Hazelwood Avenue
Newark, New Jersey 07106
Tel: 908.625.3441
Email: info@threedoctors.com