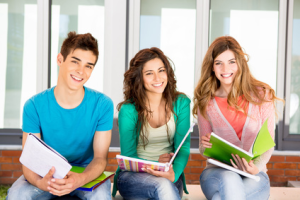 Adopt-An-Author is a free nationwide non-profit program designed to excite young adults about reading and writing through the use of best-selling thrillers, heroic non-fiction stories, motivational books and direct contact with the authors via personal appearances, classroom phone calls, e-mails, and interactive websites.
Background of the Program
Originated by high school teachers who began using Meg (rated #1 book for reluctant readers) to motivate their students to read, the program was organized by the book's author, educator Steve Alten, as a way to get young adults excited about reading.
While young children receive an abundance of encouragement to read during their pre-school to grade-5 years, such as the successful Reading is Fundamental program, once a student reaches middle and high school, reading is replaced by television, video games and peer interaction because reading programs are no longer "cool."
Enter Adopt-An-Author. Since 1999, we've become the most popular and successful tool for teachers to excite secondary school students to read. We've been endorsed by Reading Is Fundamental, Barnes & Noble and Borders Books, TAYSHA, the School District of the City of Philadelphia, Senator Bill Morrow (CA) and Temple University's Hall of Fame Basketball Coach and Educator John Chaney, along with the more than 5,000 teachers representing over 80,000 students per year. As you can see from our student, teacher, and parent testimonials, our success rate is phenomenal…and we've only just begun. Best of all, the program is FREE, paid for by our authors and sponsors.
How Adopt-An-Author Works
Teachers interested in the program register on-line through www.AdoptAnAuthor.com Registration is free, but necessary. It allows us to provide you with new information and keeps students from accessing answer keys. The website offers links to all of our author's works, free curriculum materials, and interactive websites. Upon registering, each teacher will receive a free classroom poster and additional materials about the program.
Who Benefits from the Program
Secondary School Students
Reluctant readers become excited about books. Aspiring writers: The student website: www.stevealten.com offers WRITING TIPS on every phase of writing, from getting ideas to getting published!
Students become more excited about learning. Less disciplinary problems. Curriculum, study guides, quizzes, test, and projects already developed.
TO RECEIVE THE ANSWER KEYS TO CURRICULUM MATERIALS, E-MAIL US AT Meg82159@aol.com  ANSWERS WILL ONLY BE SENT TO REGISTERED TEACHERS.